Please join us on Saturday, December 23, 2023 for a very special Christmas Dinner Buffet and Concert featuring Jerry Santos and Kamuela Kimokeo, Gail Mack and Gordon Kim, and Steve Lucas and our Mango Street Grill Jazz Band! This will truly be a magical evening in downtown Wahiawa! Doors open at 5PM and our delicious buffet will be available from 5:15PM – 6:45PM. Music starts as soon as the doors open!
Please call 808-627-5451 for your pre-sale reservations! No walk-ins will be accepted on the night of the event. We will be seating tables of 10 so gather up your friends and family and spend this beautiful evening together! Should your reservations be less than 10, we'll join others to fill the table and appreciate your understanding. All sales final.
Thank you for your continued support! -Daryl & Allie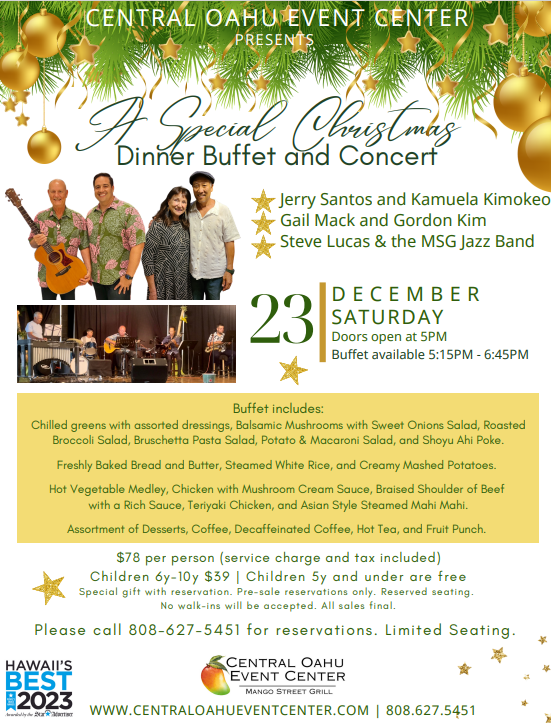 Mahalo for making Central Oahu Event Center / Mango Street Grill feel so welcome since we opened our doors in October, 2021. We are thrilled that you have chosen us for so many milestones in your business and personal lives; everything from holiday gatherings, meetings, conferences, class reunions, anniversaries, wedding receptions, retirement parties, birthday parties, to celebrations of life.
Banquets and events may be hosted in our "Plantation Ballroom" and include a customized menu for your special occasion. Mango Street Grill is the exclusive caterer for all events at the Central Oahu Event Center.
Check out our "COEC Events" page for upcoming events at our venue!
We thank you for your support and we hope to see you soon…
Daryl, Allie and our COEC/MSG Team
The Plantation Ballroom awaits your special event! Imagine a beautiful space that can be transformed into a themed event for a wedding reception, birthday, anniversary or even a business meeting! Depending on your room layout, the ballroom can accommodate up to 200 guests and features a 650 square foot stage and 340 square foot dance floor.
We are ready to celebrate with you!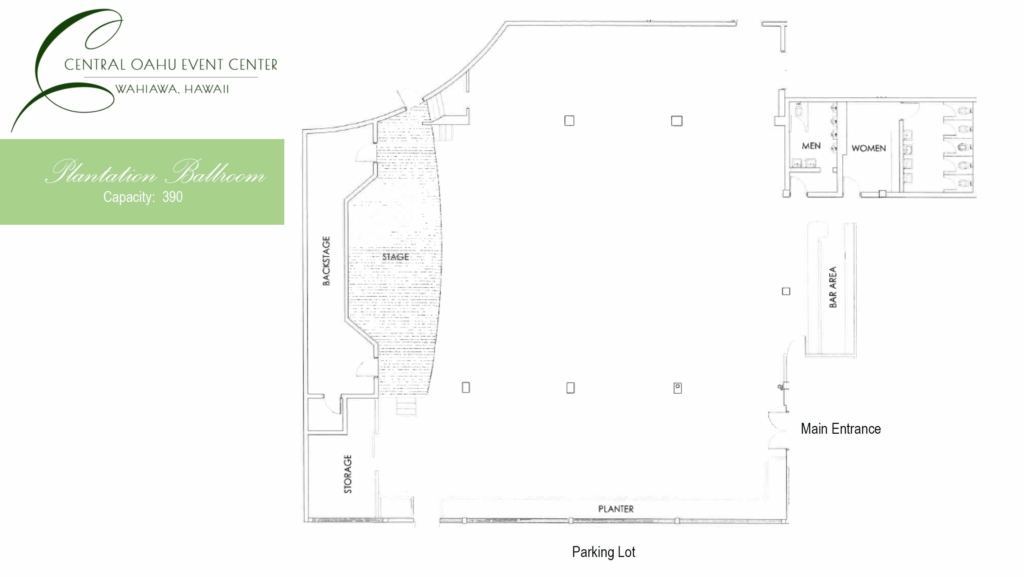 Beginning August 1, 2023, our restaurant will be open a minimum of two Sunday evenings each month. This will allow us the opportunity to book your special event at our venue any day of the week, and provide us with the opportunity and flexibility to expand our lineup of live music, comedy, and entertainment right here in our Central Oahu community.
Sundays are special days and a time for friends and family to come together, enjoy each other's company, and unwind after a long week. We decided to create our "MSG Sunday Family Dinner & Show" to bring everyone together, enjoy great food & drinks, and relax before the new week starts. Please check out our "COEC Events" page for our upcoming events and Sunday Family Dinner & Show. We have great entertainment lined up and our menu will change with each scheduled night. Our menu will include a few favorites from our Mango Street Grill menu and a few more! We hope you'll end your week with us!
Reservations recommended. Please call 808-627-5451.