We are excited to open our doors as Central Oahu Event Center (COEC). COEC includes a banquet and event space, and a full-service restaurant "Mango Street Grill." COEC includes a newly outfitted kitchen spearheaded by Executive Chef Jim Gillespie, formerly of The Plaza Club, 3660 On the Rise, and most recently, Ko'olau Ballrooms & Conference Center. Both entities will include vibrant culinary menu options thoughtfully crafted by Chef Jim.
Banquets and events may be hosted in our "Plantation Ballroom" and include a customized menu for your special occasion.
Mango Street Grill is open for dine-in or take-out service Wednesdays, Thursdays, Fridays and Sundays, 5P-8P.
We thank you for your support and we hope to see you soon…
Daryl, Allie and our COEC/MSG Team
The Plantation Ballroom awaits your special event! Imagine a beautiful space that can be transformed into a themed event for a wedding reception, birthday, anniversary or even a business meeting! Depending on your room layout, the ballroom can accommodate up to 200 guests and features a 650 square foot stage and 340 square foot dance floor.
We are ready to celebrate with you!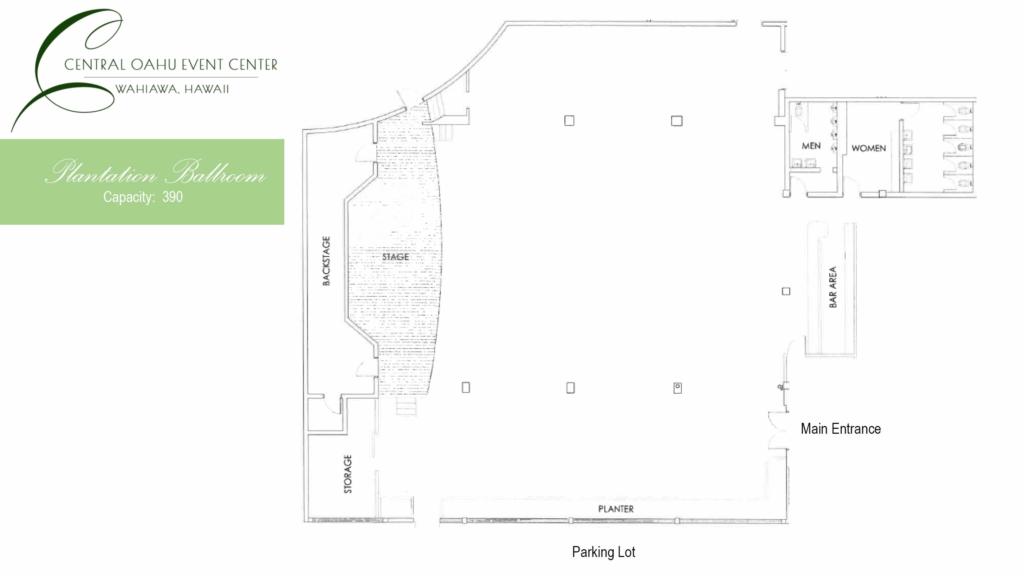 Join us for dinner on Wednesdays, Thursdays, Fridays and Sundays, 5PM – 8PM! Our restaurant is not open on Saturdays since we reserve this night of the week for private banquets, concerts or performances. Whether you're looking for a quick bite and a drink, a comfortable place to relax and talk story, or a special place for a date night, stop in at Mango Street Grill! Our menu includes an array of delicious pupus, burgers and sandwiches, entrée options and desserts. Follow us on IG or FB. Dine-in or take-out available. Reservations recommended.